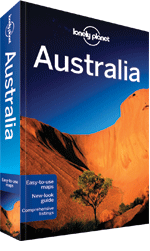 Yesterday I was checking out the 'Australia Lonely Planet', I got it from the library and thought that it would be a good reference. Until like all these books they go out of date.
First I checked out 'Book depository"', my first preference for a physical copy. Cost $23.65. Not bad considering this includes postage.
My next option was iBooks which is my prefered option. I'd like to keep my books in the 'Apple ecosystem' Cost $39.99, I nearly choked!
I thought I have a look at the kindle book store. Cost $16.49, a fair price.
Then there is google books. Nothing available as an ebook...
What is it with Apple and books? I can understand why they charge a premium for there products but when they are competing with others why can't they be at least close? Over double the price of Amazon books is just not good enough. I'll just keep looking through my borrowed copy from the library and take notes.